Our work process is rooted in thoughtful design and unique and proven artistic sensibility. We create experiences, not just kiosks and fancy digital walls. Our focus is in creating excitement and in providing a memorable and engaging experience for our client's guests and customers. It starts with defining the objectives and harnessing a dream then making that dream a reality. That is what we do, from A to Z and we feel we do it better than anyone else. We think our clients agree and we think you will too.
Creating Interactive Environments Utilizing the Latest Digital Technology Available
CASE STUDY
01
The Fresno County Athletic Hall of Fame
The Fresno County Athletic Hall of Fame, Fresno State and Fresno County Schools joined ranks to create an excitingone-of-a kind experience located in the Save Mart Center on the Fresno State Campus. The goal was to create an interactive environment to not only honor the athletes of Central California, but to present them in a way that would somehow reach out and connect with the youth of the community. By providing an interactive experience with state-of-the-art technology and a message that with hard work and dedication anything is possible…we are inspire children to stay in school and become productive members of society.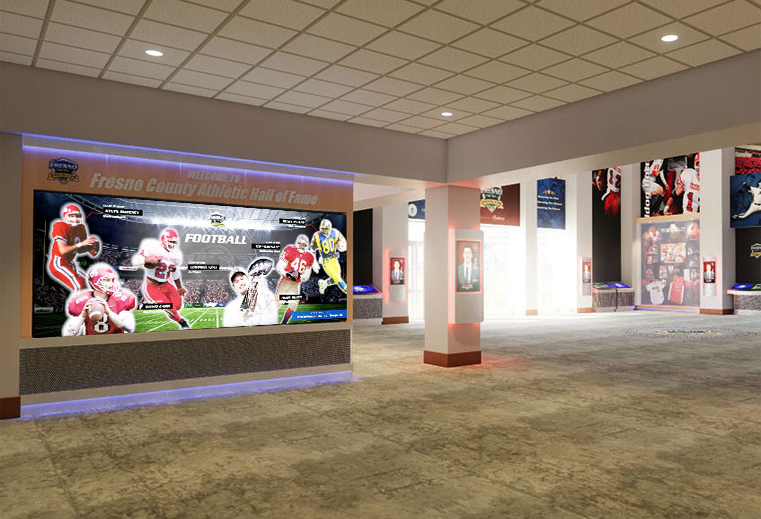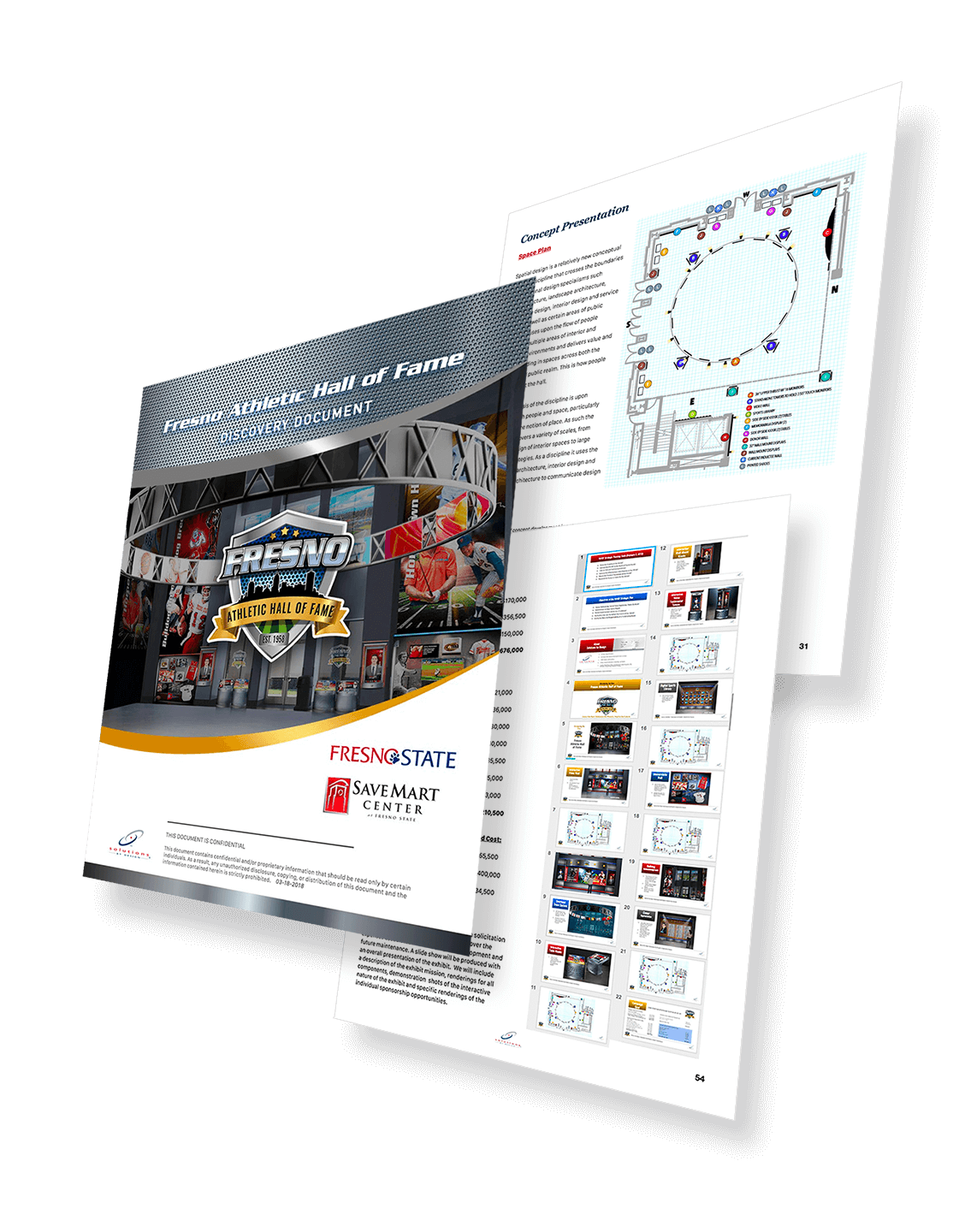 SBD was given carte blanche to present our ideas in a proposal to take a 4,000 square foot empty space and transform it into an experience that would represent Fresno County, Fresno State and the over 300 inductee athletes including the likes of Tom Seaver, David Carr, Trent Dilfer, Rafer Johnson, Tom Flores, Rod Higgins, Jim Sweeney, Pat Hill, and Margie Wright.
The final result is an experience that will interact with 40 individuals and accommodate over 150 guests. Our 22' Interactive touch wall allows for 4 individuals to activate, drag, drop and interact at will. We feature 40 interactive touch kiosks, hundreds of hours of interactive video and even sports trivia for fun.
The new Fresno County Athletic Hall of Fame will be a dynamic recruiting tool for the Fresno State coaching staff and the future home of many more amazing athletes for years to come.
CASE STUDY
02
Legion of Valor/ Fresno POWs
The Fresno Memorial Museum is home to an amazing collection of artifacts for conflicts dating back to the Civil War. In 1992 The Fresno Memorial Museum was selected out of all of the locations throughout the country as the site and home of the Legion of Valor. The Legion of Valor is a federally chartered organization created to honor patriotic allegiance to the United States for recipients of the Medal of Honor, the Distinguished Cross, the Navy Cross and the Air Force Cross.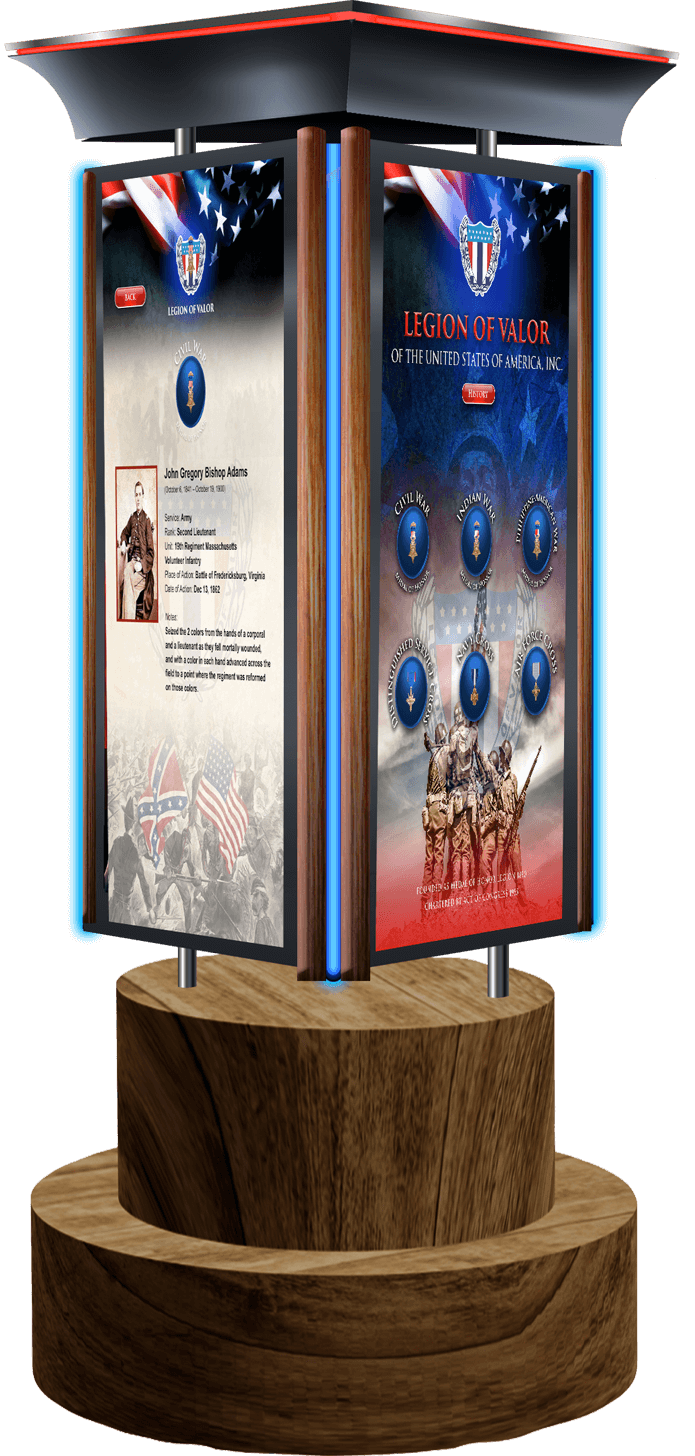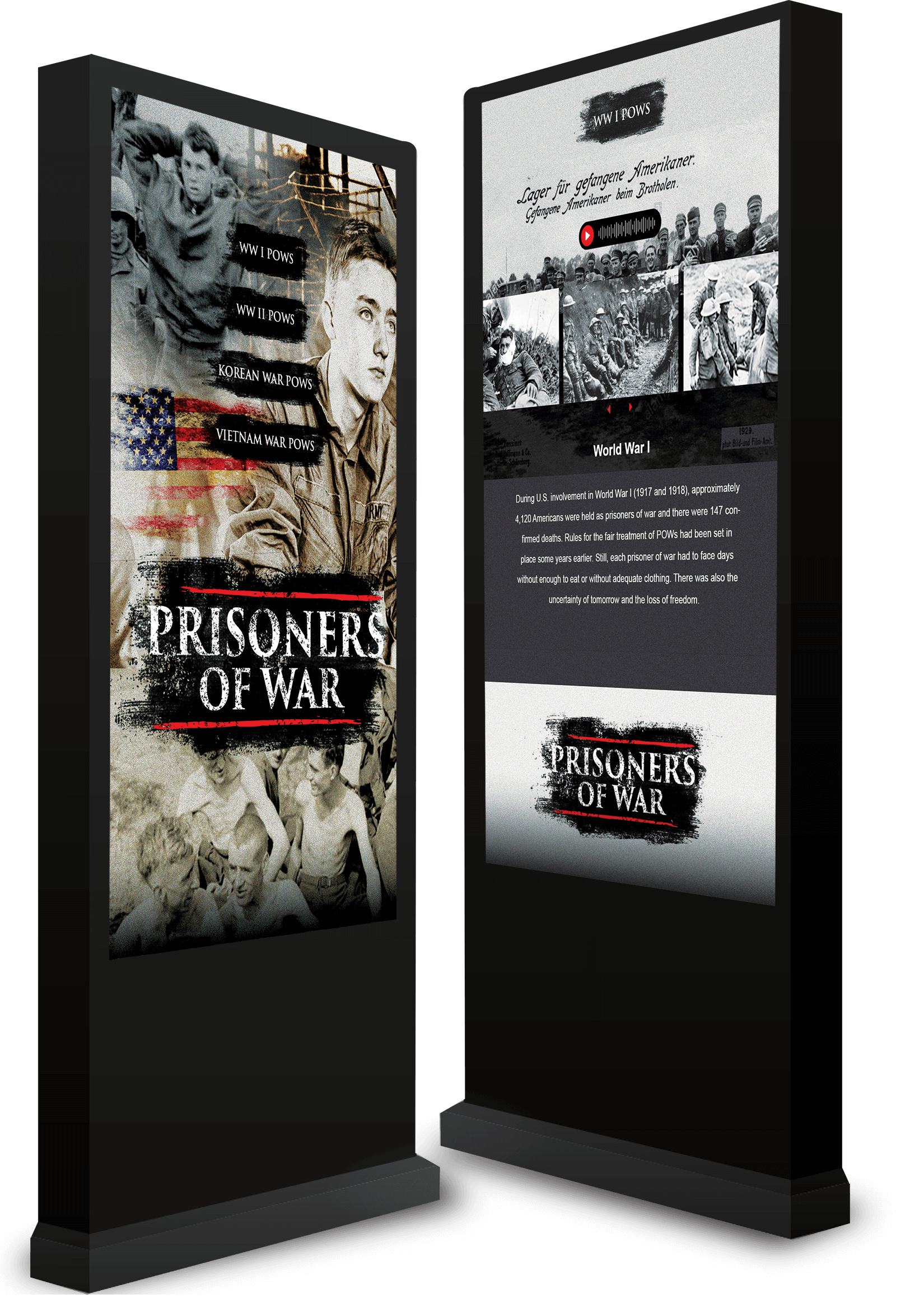 Solutions by Design developed an interactive display kiosk to allow musume guests to access each of the over 2,000 members of the LOV to learn about the heroic exploits of each and to hear of their stories of bravery and sacrifice.
Fresno is also home to dozens of POWs from World War I, II and Vietnam. SBD also designed an interactive display system to provide museum guests with access to the stories of the heroes who suffered imprisonment of the enemies of these great conflicts.
CASE STUDY
03
Italian Historical Society
The Fresno Italian community is a proud group, rich in tradition and spirit. The Big Fresno Fair is home to an amazing museum and exhibit honoring the valley's history and diverse cultural groups. We were charged with the task to create an interactive display system to provide its viewers with a historical walk down memory lane and provide a historical and cultural overview of the Italians that settled in Fresno County. We feature everything from the original neighborhood maps and family locations to artists, businesses, and politicians.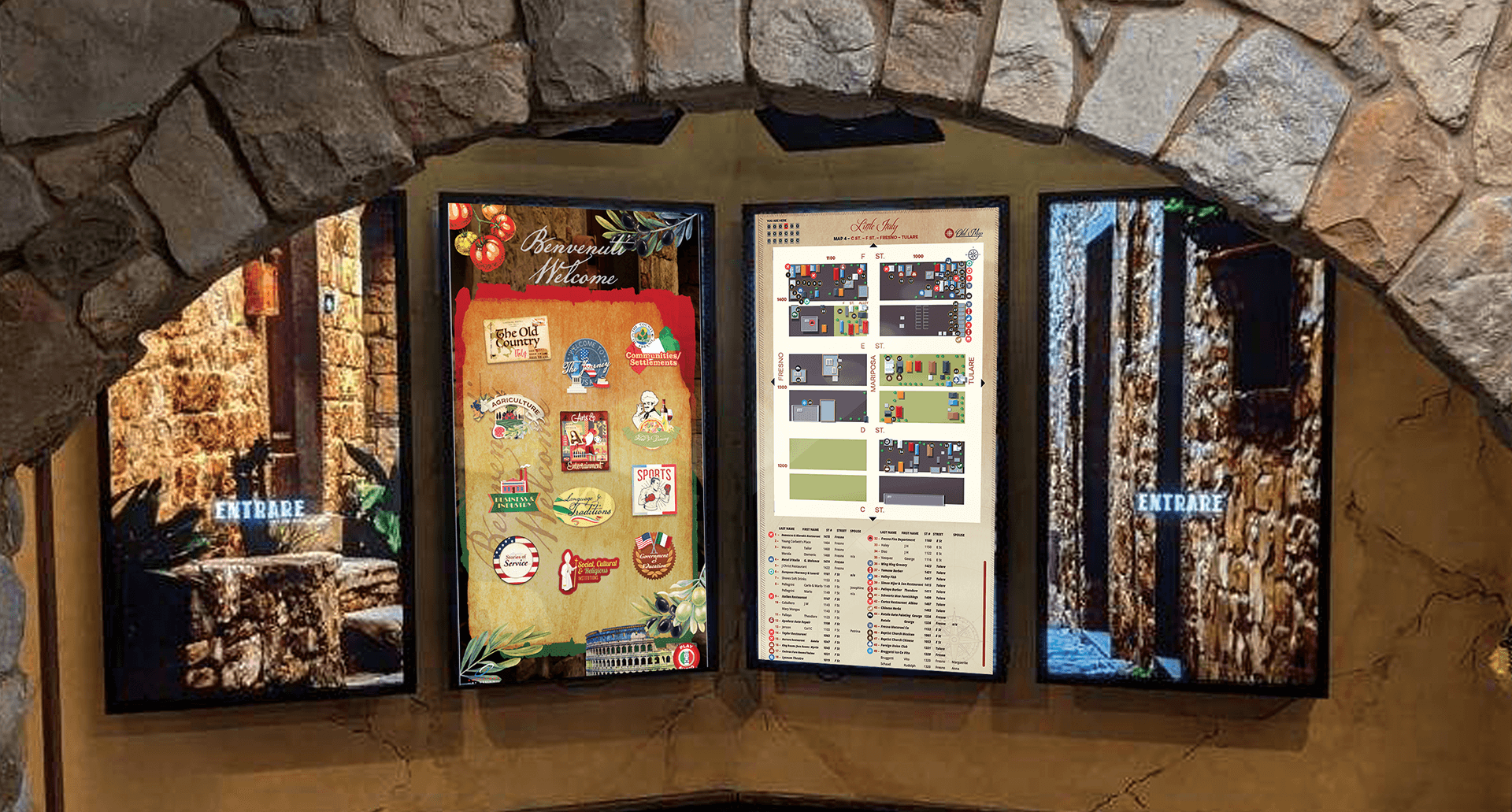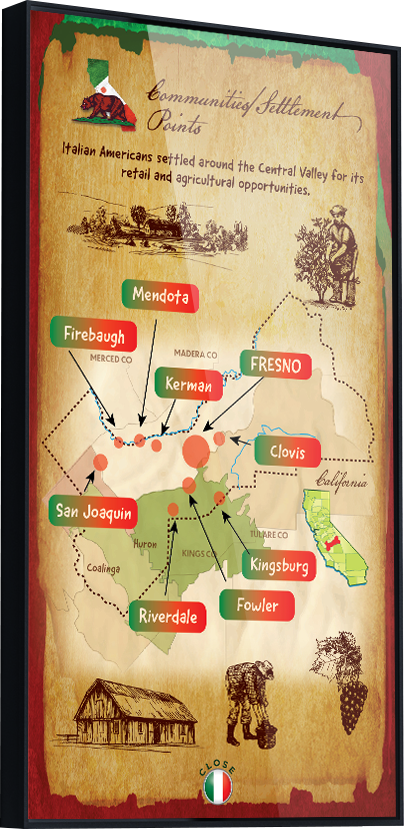 These 55" touch displays, mounted vertically, display the cobblestone streets of the old country. Once activated the interface gives way to a series of icons which are graphic links to the various subjects of concern.
Overhead directional speakers direct the sound to allow for 4 individuals to interact simultaneously without audio distractions.
CASE STUDY
04
Waterhouse Animal Hospital
The veterinary market is a specific niche in which SBD specializes. We offer our Montage Interactive® product to veterinary practices throughout the United States. Waterhouse Animal Hospital is a leading veterinary practice located in Central California. As close friends of our CEO, collaborative discussions and thinking resulted in the development of an interactive display system that allowed Waterhouse doctors and staff to entertain, educate and present clinical case information to their clients in a way never yet experienced in the veterinary industry. As word spread of this innovation, more and more forward thinking veterinarians participated in this new technology and became part of a successful product utilized in practices throughout the country.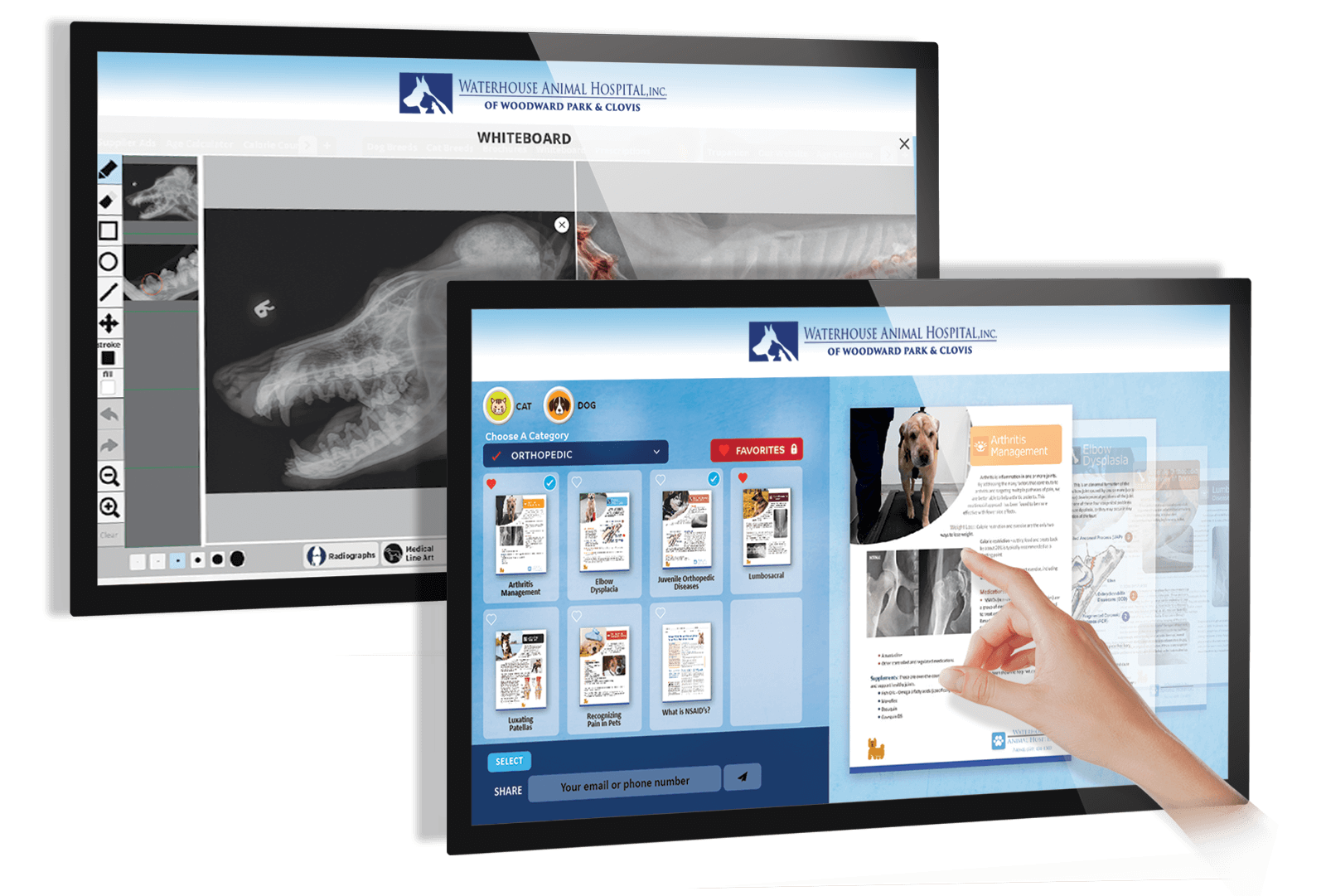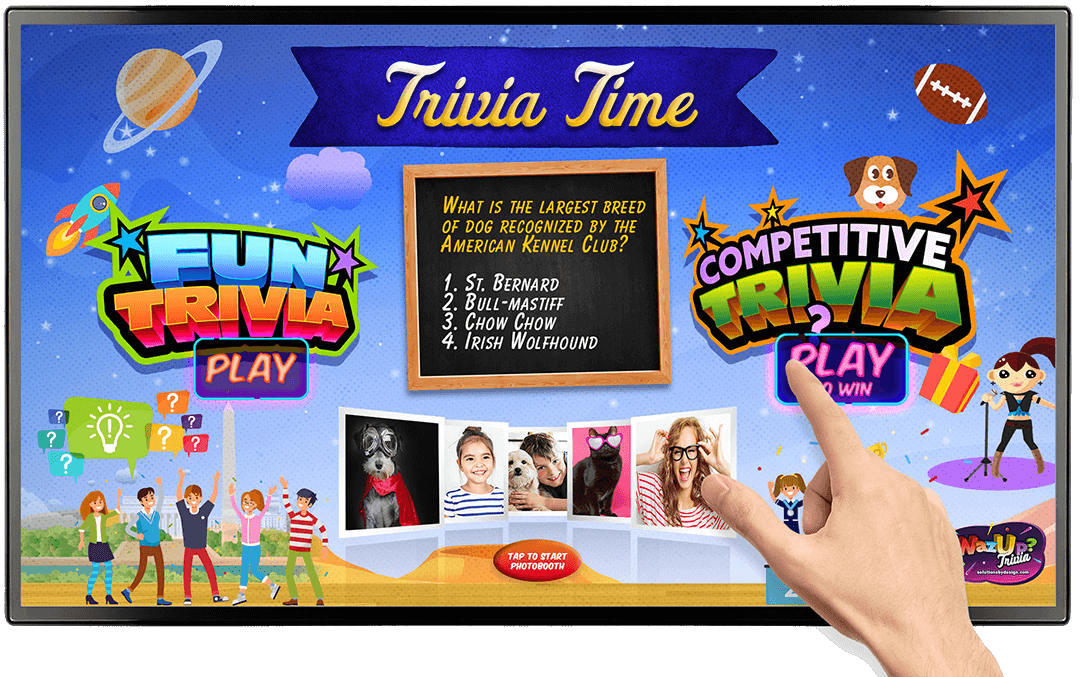 Thousands now interact with Montage Interactive Veterinary on a monthly basis. Our entertainment modules allow patients to play trivia games while they wait for their appointment in the lobby and in the exam room. We offer over 20 professional videos on pet care and nutrition which can be self-activated or presented by the doctor or staff member. We have eliminated the need for paper brochures and include approximately 100 professionally designed brochures on topics ranging from specific procedures to nutrition to caring for your pet.
Our radiography (x-rays) interface allows doctors to import x-rays directly into our digital whiteboard and present them to the client and email or text them directly from the board.
We are also in development with the Hills to Home interface that allows clients to enroll in the Hills to Home Program directly on the Montage board.
CASE STUDY
05
Orthodontics
Orthodontics has long been a market in which SBD has participated. Our interactive display system Montage Interactive® Orthodontics is used in orthodontic practices throughout the country. Montage in the orthodontic world is primarily utilized as an interactive tool for social media, patient entertainment and self education. Patients interact in the reception area and learn all about the various types of treatment protocols as well as self entertainment with our WazUp Trivia module.